Best Football Preseason Sportsbook Bonuses
Details

Category: Gambling Industry
Created: Tuesday, 23 August 2016 14:14
The regular NFL Season starts on Sept. 8, 2016 which means that right now, all of the sportsbooks are trying to get your business before the season starts. Since the sportsbooks know that most people usually will stick to one or two sportsbooks once the season begin, now is their chance to try and woe you into placing your football bets with them!
In order to get your business, all of these online companies are offering some amazing sportsbook promotions that are better known as Early Bird Bonuses.
These Early Bird promotions are usually meant to try and lock you in by giving out either large welcome bonuses, or bonuses that will involve a free contest entry, free game specific bets and even free weekly bets throughout the football season.
To save you the time and effort going over dozens of offers by the best online sportsbooks, we decided to go over the top 50 sportsbooks and tell you which sportsbook has the best early bird NFL and NCAA football promotions.
Best Football Early Bird Sportsbook Promotions
The Biggest Sportsbook Cash Bonus
CRSportsBet.ag is a medium size sportsbooks based out of Costa Rica that despite only having been around for a couple of years, has been making the news for having a steady payout record, excellent sports betting odds and a top of the line live betting software.
Early NFL Football Bonus: a 150% CASH BONUS with a 20x rollover.
Read the CRSportsBet.ag Sportsbook Review
---
The Biggest Free Play Sportsbook Bonus

BetPhoenix.ag has been around for a decade and is now considered one of the big boys in the industry. Betting on sports at Bethoenix gives you many perks such as thie 10% Weekly cash back and 15% weekly racebook rebate.
This means that you not only get a great bonus but you also get peace of mind when you use them as your sportsbook of choice!
Early NFL Football Bonus: a 200% FREE PLAY BONUS with a 18x rollover.
Read the BetPhoenix.ag Sportsbook Review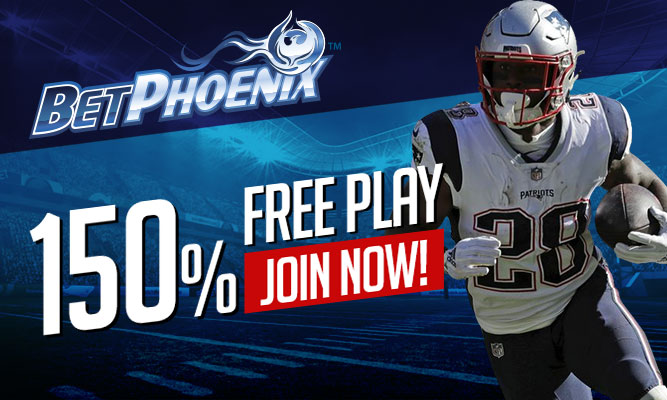 ---
The Best All Around Bonus
BetOnline.ag is a large sportsbook that has been around for about a decade. This means that they don't need to give out large sportsbook bonuses because players know that they are a strong and reliable sportsbook with strong financial backings. In short, people know that this is a safe place to bet and not lose your money.
Early NFL Football Bonus: a 50% BONUS with a 10x rollover up to $2,500
Read the BetOnline.ag Sportsbook Review